Getting Started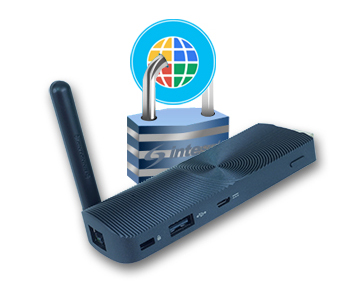 Thank you for purchasing the Inteset PlayBox™ - Browser Edition player device. With an Inteset PlayBox, you can easily setup and deploy your single purpose browser-based application quickly. This inexpensive, miniature but powerful device can bring your project to production in no time. With PlayBox - Browser Edition you can:
Eliminate the complexities and expense of configuring and using custom built player devices
Setup and deploy your project in minutes
Works with a plethora of kiosk and digital signage applications out-of-the-box
Exclusively run and white list your own website or Chrome application
Run Chrome in "kiosk mode" or lock down the browser in normal view preventing access to administrative settings
Easily hide the rugged, miniature player device where convenient on the back of your display
Connect with your network via Ethernet or WiFi
Output HD (1080p) video
Manage and sync PlayBox devices using Inteset Remote Management Services (RMS)
In addition, the PlayBox ecosystem is constantly evolving. With easy to deploy, frequent systems firmware updates available via the Inteset RMS, you'll always stay in the forefront with new or improved features.
Included In the Box
The Inteset PlayBox comes with the following components: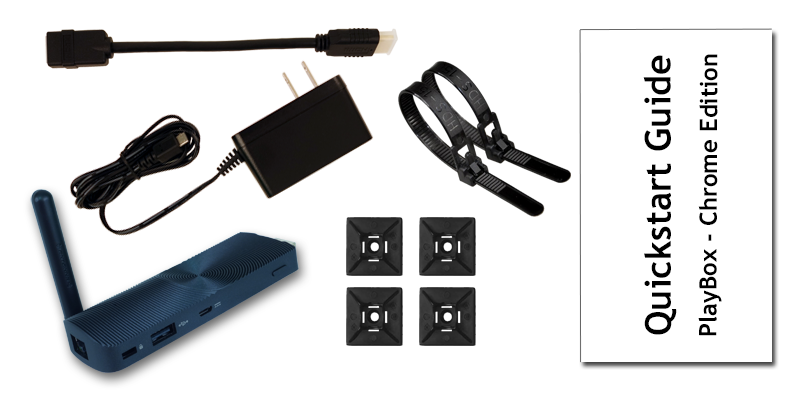 Inteset PlayBox player device
8" HDMI extender cable
5v, 2amp, micro USB power supply
4 mounting pads, 2 releasable wire-ties (for mounting the PlayBox)
Quick-start Guide
Hardware Specifications
The PlayBox is small, but fully featured and powerful to provide flexibility and run your most demanding media sources. Included are the following hardware specifications: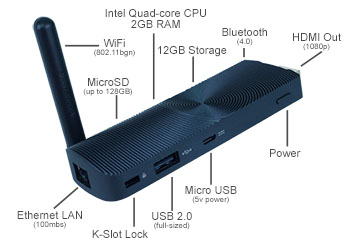 Core OS: Windows 10
Browser base: Chrome
Video Output: HDMI v1.4 (1080p)
Connectivity: Bluetooth 4.0; WiFi 802.11bgn; Ethernet 100mbps
External Connectivity: 1 x USB 2.0
CPU: Intel Quad-core
System RAM: 2GB
K-Slot lock
Power LED
Power: 5v, 2amp, Micro USB (power supply included)
Size: 4.5in L x 1.5in W x .75in H
Weight: 6.1oz
Mounting the Device
In most situations, the PlayBox is mounted to the back of the display. The following depicts a typical mounting setup of the PlayBox.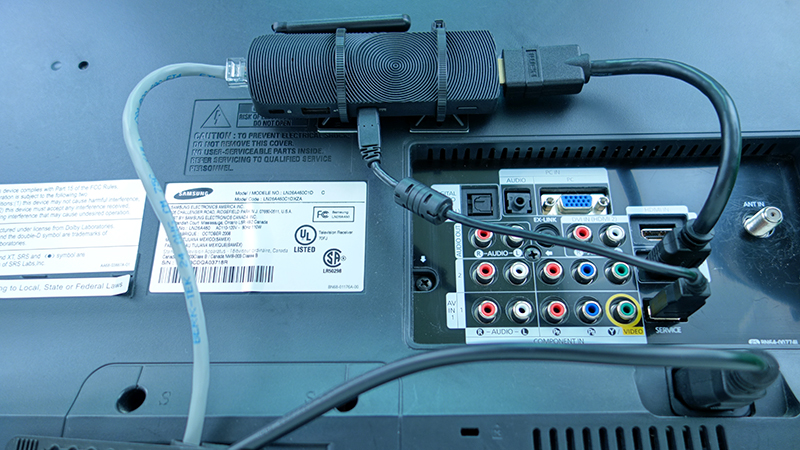 Use all 4 mounting pads as shown.
Using the mounting pads will separate the PlayBox away from the display providing better airflow.
If available, use the USB power source of the display to reduce clutter. Be sure that the USB of the display supplies power when the display is turned off and that it outputs at least 2 amps (USB power cable shown is not included).
Ensure that there is ample airflow to the PlayBox to prevent overheating.
Powering Up
Now that the device is properly mounted, it's time to power up.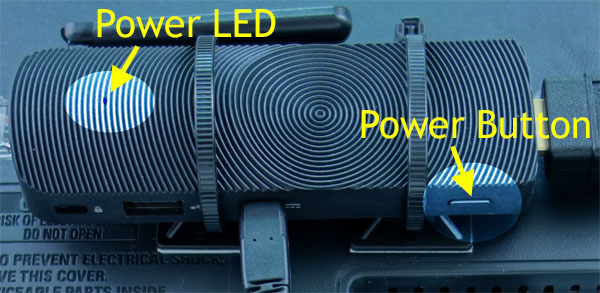 To be sure the unit is receiving power, check the Power LED. It should be red.
Turn on the display and ensure it's source is set to the correct HDMI port.
Now press the Power Button on the PlayBox.
Notice that the Power LED is now blue.
View the display and notice the power on sequence.